Customized Web Portal
Get Your Customised Web Developer Portal to Excel in Your Niche
Your Website is your company backbone. It facilitates all the digital marketing activities in your business and acts as the main touchpoint for customers. A responsive web developer portal or custom website gives online customers a good understanding of the brand deals, specific value propositions and core values.
Our in-house, experienced team of qualified web developers ensures that your custom website or web developer portal is designed to optimize functionality. Back-end design is carefully designed and we maintain advanced front-end functionality. Our expertise in HTML, CSS, jQuery, Ajax, JavaScript, PHP, MySQL, Git, Laravel, and Apache makes us the best web portal development company in UAE.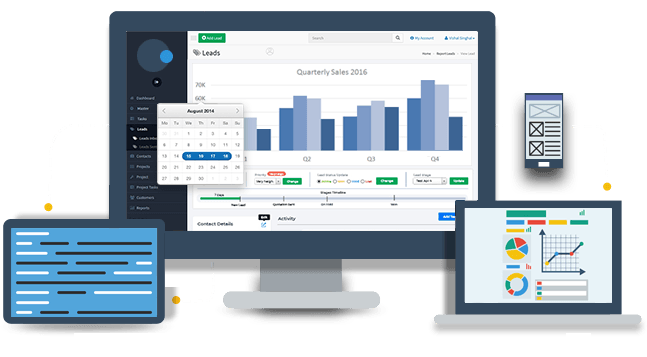 Around 80 percent of customers perform online research before making a purchase or visiting a local store. Without qualified custom website design, shoppers online can easily get frustrated. This results in higher bounce rate, bad credibility online and lower conversion rate.
We ensure that your target clients can quickly identify and access their website. Invest in a sensitive, well-designed and insightful web site to increase the competitiveness and popularity of your brand.
A custom website design helps you to build and express your brand by tailoring page elements that match with your goals. Custom web design costs are comparatively higher than website models, but they also provide many advantages that give you a competitive edge. More search engine-friendly, customer-centric, creative and customizable than built-in templates is a custom website design.
Gain power over your brand identity and push your consumers to the bottom of the sales funnel with the custom web design services offered by ITConnect. To evaluate the conversion potential for your website, our custom website design company conducts in-depth site analyses, user surveys and market reviews.
We define your priorities, prepare your strategy and build website design and web portals that suits your marketing system. We have supported hundreds of clients by introducing custom Web design services.
Partner with our web portal development company and gain the following benefits:
• Websites that are results-driven
• Custom cost-effective web portals
• Tailored and bilingual (English/ Arabic) solutions for start-ups and enterprises
• Experienced experts in Web design and development
• Experts content strategists
Why ITConnect?
Partner with our web portal development company and gain the following benefits:
Ready to start the conversation?
We're experts on your side, doing what it takes to get the job done right — from the first consultation to your daily operations.
Who we are
ITCONNECT TECHNOLOGIES - FZCO incorporated in the heart of Middle East IT Hub, Dubai, in 2016 provides end-to-end Managed IT services and solutions, be it to support your Cloud Infrastructure or Patching your Network.
ITCONNECT is a staunch advocate of Open Source. Promoting, supporting and educating the use of Open Source Technologies and Products in the UAE region is one of the founding aims of the company.
Other Services